"More than 90 percent of S&P 500 companies now publish ESG reports in some form, as do approximately 70 percent of Russell 1000 companies."
—McKinsey Sustainability
It's not the letters in ESG that are important — it's how you embed their principles as actionable examples that will transform your business. Aligning your team around common goals is an operational advantage.
Generally speaking, businesses that embrace ESG standards are more competitive than those that don't. There are significant and beneficial business reasons to include ESG reporting in your standard operating procedures. According to McKinsey Quarterly, the top five benefits of ESG compliance are:
Top-line growth by increased appeal and better community relations 
Cost-reductions through reduced resource consumption
Regulatory benefits through deregulation and government incentives
Productivity improvement through better talent and morale
Better asset optimization through more sustainable equipment and investments
Management will be able to discuss aspirations, address concerns and set high-level goals.
Employees will understand the reasons for the changes and what they can do to help achieve goals. Employees (especially younger ones) appreciate the organization's care for the planet. Businesses that comply with ESG principles attract better employees, keep them longer, and enjoy higher productivity levels.
Customers understand the value of the change and appreciate organizations' care for the planet, employees and future generations. More brands are leveraging this awareness and cultural shift every day.
Supply Chain Scope 3 of ESG reporting includes suppliers, these companies will need their suppliers to also supply this information. Connecting these dots together helps build a stronger community and supply chain. Putting these factors in place now helps you remain competitive when as they become required
ESG education helps all members of your organization make more informed decisions. Small  decisions now can lead to significant advantages down the road. A 5% increase in efficiency year over year turns into 25% over 5 years.
"In January 2023, the European Union adopted the Corporate Sustainability Reporting Directive, which requires companies with activities in the EU to file annual sustainability reports alongside their financial statements."
—Cooley
EarthWork offers a range of solutions that fall into three categories. Depending on your needs, we'll create a plan that includes a combination of one or more of these items.
When everyone is pushing in the same direction at the same time, efficiency is maximized, confusion is minimized and change comes quicker. When buy-in increases, friction decreases and the rate of change increases.
The core of our problem solving comes from our workshops and collaborative sessions. We build a series of sessions customized to your needs to engage an organization's decision makers and influencers. These group sessions typically range from 3-20 people and uncover fresh ideas as well as objections. We treat them with equal importance. 
Attendees overwhelmingly report that they came away with better ideas and a better sense of purpose. They can be used to align disparate teams, as well as add momentum to already coherent teams.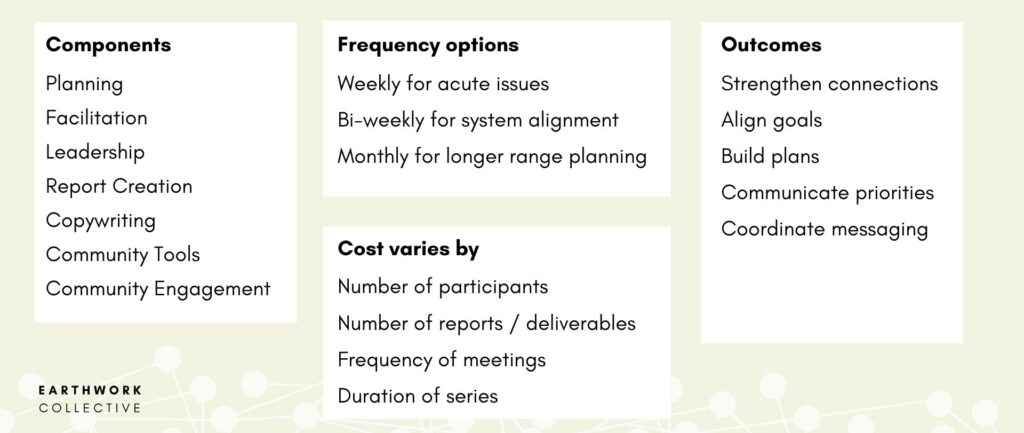 People are the ultimate agents of change. When individuals understand the mission, change is more easily and thoroughly implemented. Planning, communication and support are the three primary facets of a successful transition.
As translators, we take the goals and strategies and tactics developed in the Alignment and Planning sessions to convert them to specific actionable behaviors, along with the rationale behind them, to targeted communication materials – graphic design, website design, infographics, etc. They are purpose-built for each segment of your organization with appropriate metrics and actions to suit their role and sphere of influence.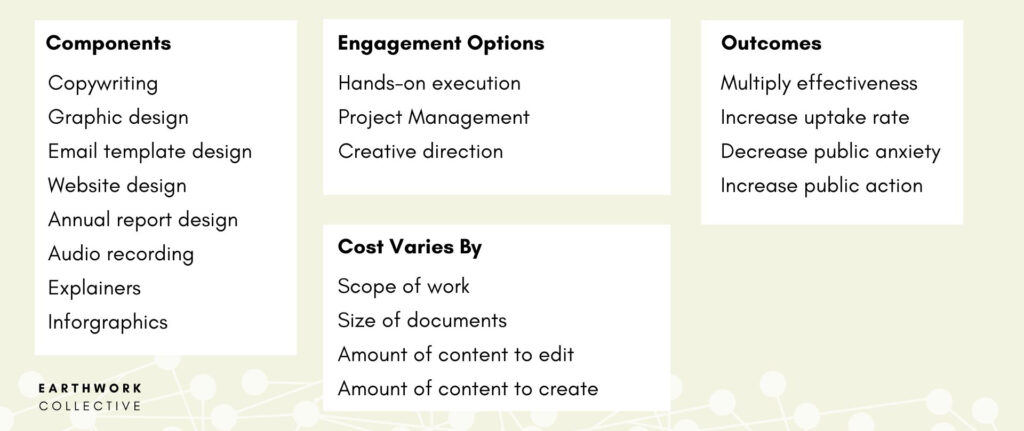 As the shine of a new initiative wears off, it's important to provide support to those making the changes so they know their actions are valued and that others are working together on the same initiative. We provide a follow up meeting series to help colleagues connect, compare successes and challenges and provide opportunities for feedback to close the loop with the original plan.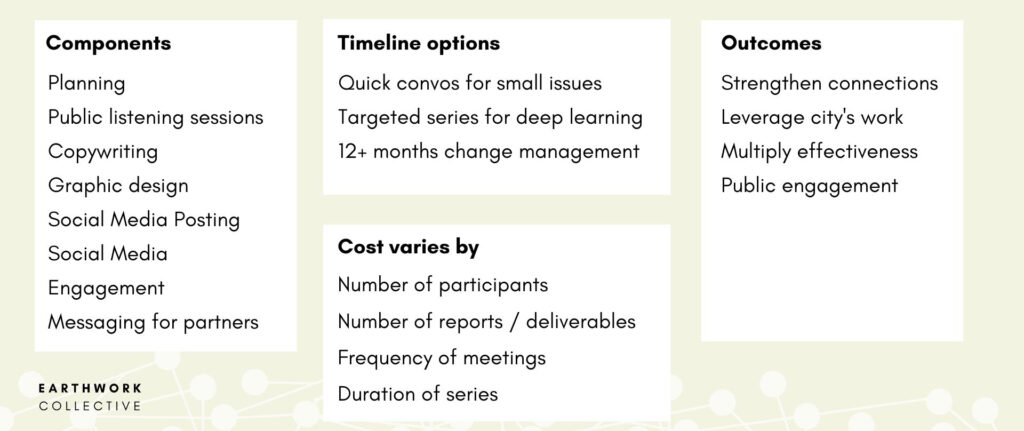 Unlock the potential of a purposeful business with actionable strategies and comprehensive insights. When people work together teams grow stronger, employees are more satisfied and business is easier. 
Given our experience with environmental, social and governance conversations, and our skills as facilitators, educators and creatives, we have all of the points covered to nurture lasting change in your organization. Improve your business alignment by getting started today.
For a good overview on the topic, check out The ESG Explainer. It covers all of the basics to help you understand the lay of the land and cuts through the technical jargon.