Good communication helps communities adapt faster.
Progress on climate goals is often stopped in its tracks due to bad communication, logistical hurdles or a lack of resources. All of those are solvable.
Community groups and public agencies have a range of complicated factors from both internal and external stakeholders. These challenges can be found both from staff and the public in varying degrees.
Lack of awareness and/or understanding
Resistance to change
Limited resources and budget constraints
Short-term thinking and prioritization for sustainability
Engaging stakeholders with varying interests and priorities
EarthWork offers a range of solutions that fall into several categories. Depending on your needs, we'll create a plan that includes a combination of one or more of these items.
Workshops & Co-Creation Sessions
The core of our problem solving comes from our workshops and collaborative sessions. We plan and build a series of sessions to help you engage your decision-makers and influencers. These group sessions typically range from 3-20 people and uncover fresh ideas as well as objections. Attendees overwhelmingly report that they came away with better ideas and a clearer sense of purpose. They can be used to align disparate teams, as well as add momentum to already coherent teams.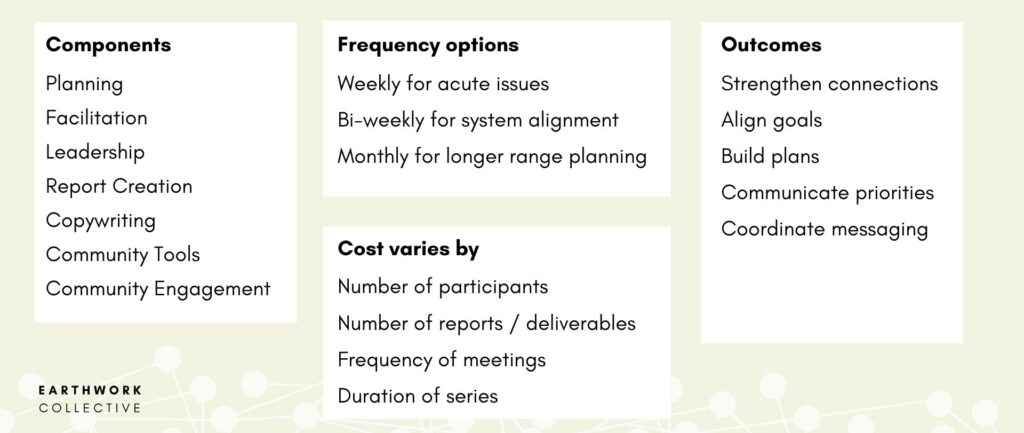 While we all have some interest in climate, each group might have its own take on sustainability – the benefits, the challenges, as well as the items they focus on. Schools, businesses, civic groups, etc all have a stake in the change and will participate when communicated with clearly. We get their input and feedback to help ensure that your plans fit them as well as possible.
We work with your team to develop a plan for how, when and where to roll out your messaging. Whether it's social media, full-detail booklets or one-page fliers we determine the place, time and content of each item to help get as many people on board with your sustainability goals.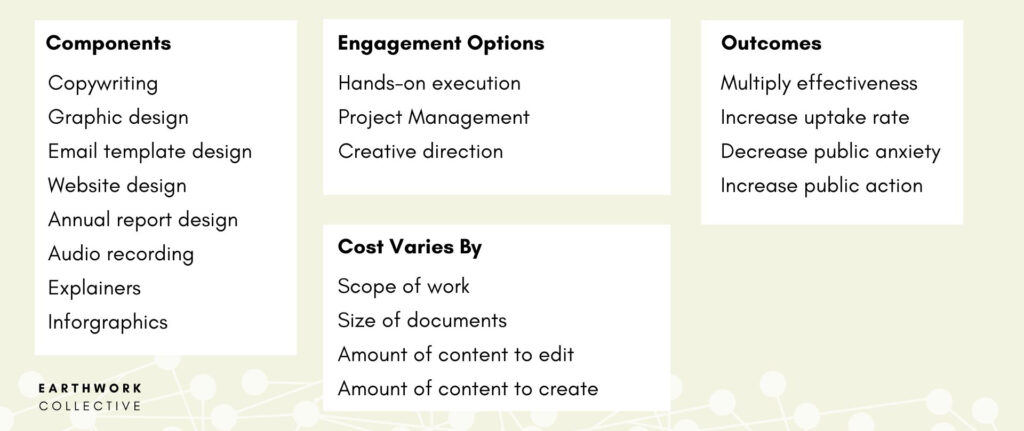 Developing a coherent and rational policy for sustainability is a huge achievement. However, communicating that to the general public requires a different set of skills. Words matter. Pictures are worth a thousand words. We've all seen graphs that make our eyes glaze over, and paragraphs so dense that you feel like you need a PhD to get through it. Getting the message right is an important aspect of sharing the news of your climate action plan and sustainability goals. We like to think of this as translation services.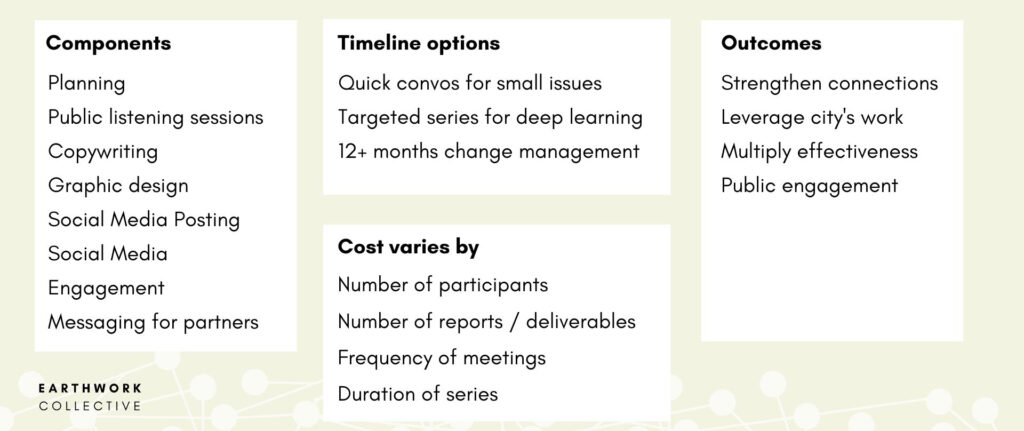 Uncover hidden objections from colleagues
It's common for even well-intentioned conversations to go sideways into a round of complaints. Our professional facilitators are experts at keeping conversations on track, while still allowing space for free-form conversations that are essential for creative problem solving.
Make meaningful connections with community members
While we come from different backgrounds and have different goals, skilled facilitation ensures that it becomes an asset rather than a liability. Whereas a less popular idea may get passed in a small meeting due to personalities or lack of objections in the planning phase, that doesn't mean it will work for the larger community. Having a professional manage the conflict that arises from the contrast helps develop solutions that better match the broader community. 
Build specific, actionable plans for your top issues
"The last thing we need is a random gabfest" said one unwilling invitee. He was absolutely correct. This is where Earthwork excels – taking the gems that come out of a conversation and turning them into actionable ideas. We don't waste time, and we don't let good ideas go to waste. 
Share your wins and encourage more buy-in
The reason behind your changes, the engagement process, and the language that you use to describe it are all of critical importance to the uptake of the plans. For those organizations that have made progress – even small wins – we provide support in communicating those ideas to the public.
Unlock the potential of a purposeful business with actionable strategies and comprehensive insights. When people work together teams grow stronger, employees are more satisfied and business is easier. 
Given our experience with environmental, social and governance conversations, and our skills as facilitators, educators and creatives, we have all of the points covered to nurture lasting change in your organization. Improve your business alignment by getting started today.