Should a company focus on all three areas of ESG at the same time? Why not just aim at one, instead of trying to tie them all together?
ESG has influenced how businesses operate due to the social and legal reforms that have been in place over the past 40 years. Even if they are not actively measuring it, this is still true. On the surface, it makes sense to focus on getting one area "right" before tackling the others. The reality is that the ESG individual elements are in fact intertwined. This means that if one area fails, the work done in the other two areas may also suffer.
Consider the following example based on a field study run in 2013 by TD Bank in the United States. The company created a strong environmental program that aimed to also boost employee engagement and increase financial productivity. When employees learned about the new program through communication directly from the top and employees did not believe in the authenticity of the program.
The employees that were introduced to the program through their peers, on the other hand, took pride in the company's environmental program. These findings highlight the effect of actions taken in internal communication (an element of the Social domain) boost both businesses' environmental performance (an element of the Environmental domain) and enhance employee-related results (an element of the Social domain).
Or consider this: in today's social media driven, 24-hour news world, it's easy to tarnish a reputation with one negative story. Your company could have a stellar environmental program and the most diverse, fair hiring practices. But what happens when someone reports your CEO is practicing insider trading–remember Jeffrey Skilling of Enron fame? Or if your company's board approves an outside supplier who engages slave labour–as happened with fashion retailer Reitman's in 2021. Poor governance can negate your positive efforts in one fell swoop.
If a company has strong Governance principles in place, the Social and Environmental aspects of its ESG program are often easier to implement. Buy-in and support from everyone in and outside the company – to cleaner, more earth-friendly manufacturing methods and fairer hiring and employment practices – is far more likely.
Part of ESG is recognizing the impacts of environmentally damaging or wasteful operations, unfair hiring and promotion practices, or low average employee pay. Concerned companies aim to fix these problems and help those impacted to recover and build successful lives in the future.
Many companies put their social and environmental goals at the forefront of their ESG strategies. Governance often holds less weight. But If your company has strong governance, the other two areas are often much easier to implement.
Coordinating all aspects of an ESG program is the best approach. Full ESG integration is the best way to reduce risks and strengthen a company-wide mission. And it provides your company with a broader understanding of the effect its core principles and operations have on the world.
Pull out: Your circle of responsibility–employees, investors, customers and suppliers and – expect your company to be transparent and coherent in communicating your environmental sustainability, social and governance plans and policies. This means consistent, ongoing measurement and reporting in all three areas. The dangers of not doing so include risks of reputational harm, financial loss, and employee dissatisfaction. The best and most successful companies strive for a balanced emphasis on the E, S, & G in all that they do – and how and where they do it.
Fully engaged employees trust and believe in their management. Unless management educates and engages employees in its ESG program, their lofty sustainability goals might just remain in the clouds.
References
Potoski, M., & Callery, P. J. (2018). Peer communication improves environmental employee engagement programs: Evidence from a quasi-experimental field study. Journal of Cleaner Production, 172, 1486-1500. DOI:10.1016/j.jclepro.2017.10.252
Sing, A., Pederson, K., Szeto, W. and Common, D. (2021). Canadian brands sold clothing from factory suspected of secretly using North Korean forced labour. Retrieved on September 14, 2022 from marketplace-canadian-brands-forced-labour-1.6236820
Strick, J. (2021). ESG Factors: What are they and why they matter. In ecoPortal. Accessed July 29, 2022 from https://www.ecoportal.com/blog/esgfactors
Wilson, N. (2019). ESG Notebook: How companies are getting to profitable sustainability. In Forbes. Accessed on July 27, 2022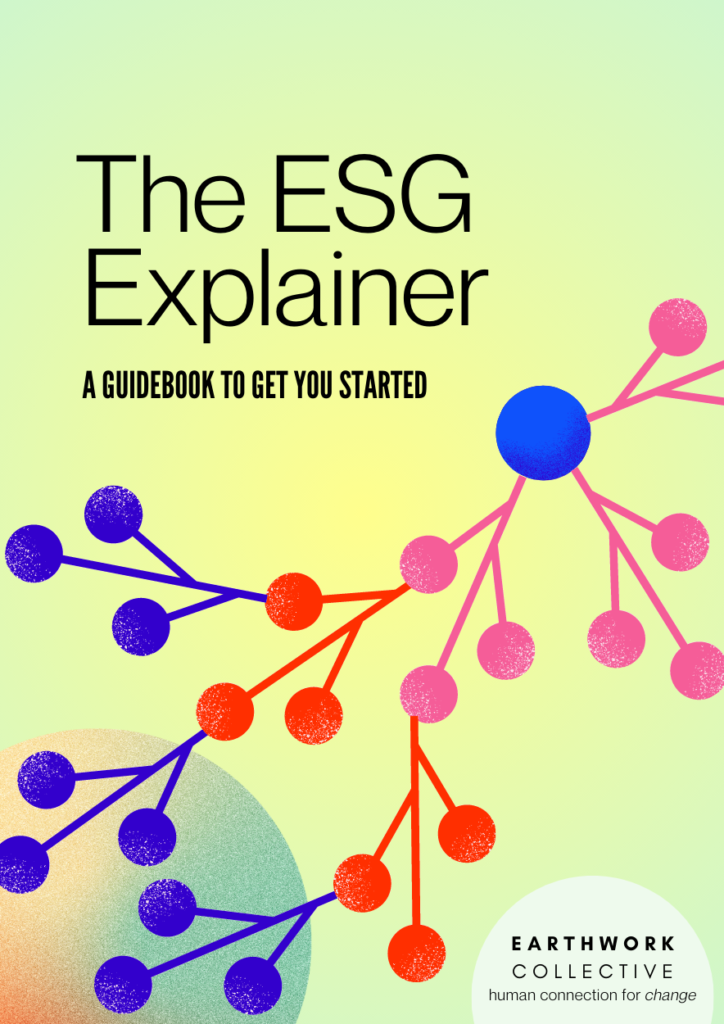 WE WROTE A GUIDEBOOK
This article just scratches the surface of ESG.
We put together a full ESG Explainer for a deeper dive into environmental, social and governance for best business practices.